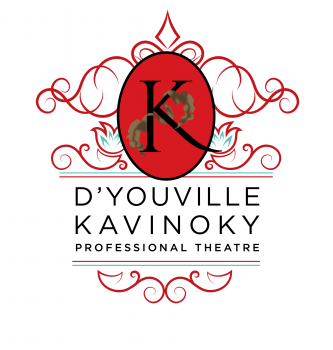 Contact
a professional theater company in residence at D'Youville University
Address: 320 Porter Avenue, Buffalo, NY 14201
Email: kavinokytheatre@dyc.edu
Box Office Phone: (716) 829-7668
Leadership and Staff
Executive Artistic Director: Katie Mallinson
Director of Development & Audience Services: Ben Michael Moran
Production Stage Manager: Derek Moran
Audience Services Coordinator: Maggie Zindle
D'Youville Kavinoky Theatre
Mission & History  
The D'Youville Kavinoky Theatre began producing plays in the 1970's under as Stage Centre, a company of professional actors working along the lines of a traditional repertory company to produce a season of plays. Under the artistic direction of David Lamb, Stage Centre performed in the Porter-View Room on the campus of what was then known as D'Youville College, with the intent of raising funds to restore the Edwardian theater on campus to serve as a home for the company. 
The theater's current home was built in 1903 as a recital hall for vocal performances, string quartets, and piano recitals serving the new college. The restoration of the hall was spearheaded by Edward Kavinoky, the first lay chairman of the college's board of trustees. The theater opened the 1980 season in its new home, renamed The Kavinoky Theatre in honor of the former chairman, whose diligent campaign transformed the hall into the beautiful theater audiences enjoy today.
In 2022, D'Youville University launched the first MFA program for acting and performance in Western New York, housed within the auspices of The Kavinoky Theatre. The mission of the Dramatic Arts MFA is to train students for sustainable, inspired artistic careers. MFA students work alongside professionals at The Kavinoky Theatre as they explore the question: what's next for American theater? Starting in the 2023/2024 season, The MFA Company will perform a season of shows, both at The Kavinoky and in the community, that complements our Subscriber Season. For more information on this program, visit www.dyu.edu.  
Since 1980, D'Youville's Kavinoky Theatre has served Buffalo and the surrounding region through entertaining and thought-provoking experiences of live theater. Inspired by the mission of D'Youville University, The Kavinoky continues to embrace a shared vision of inclusivity, service, and leadership aimed at enriching our community through our programming, educational initiatives, and community engagement.