Theatre Bucks are the perfect gift for the theatre lover in your life or a great way to treat yourself! Accepted at all TAB Member Theatres, Theatre Bucks can be purchased in increments of $25 and redeemed within 5 years of purchase (subject to availability).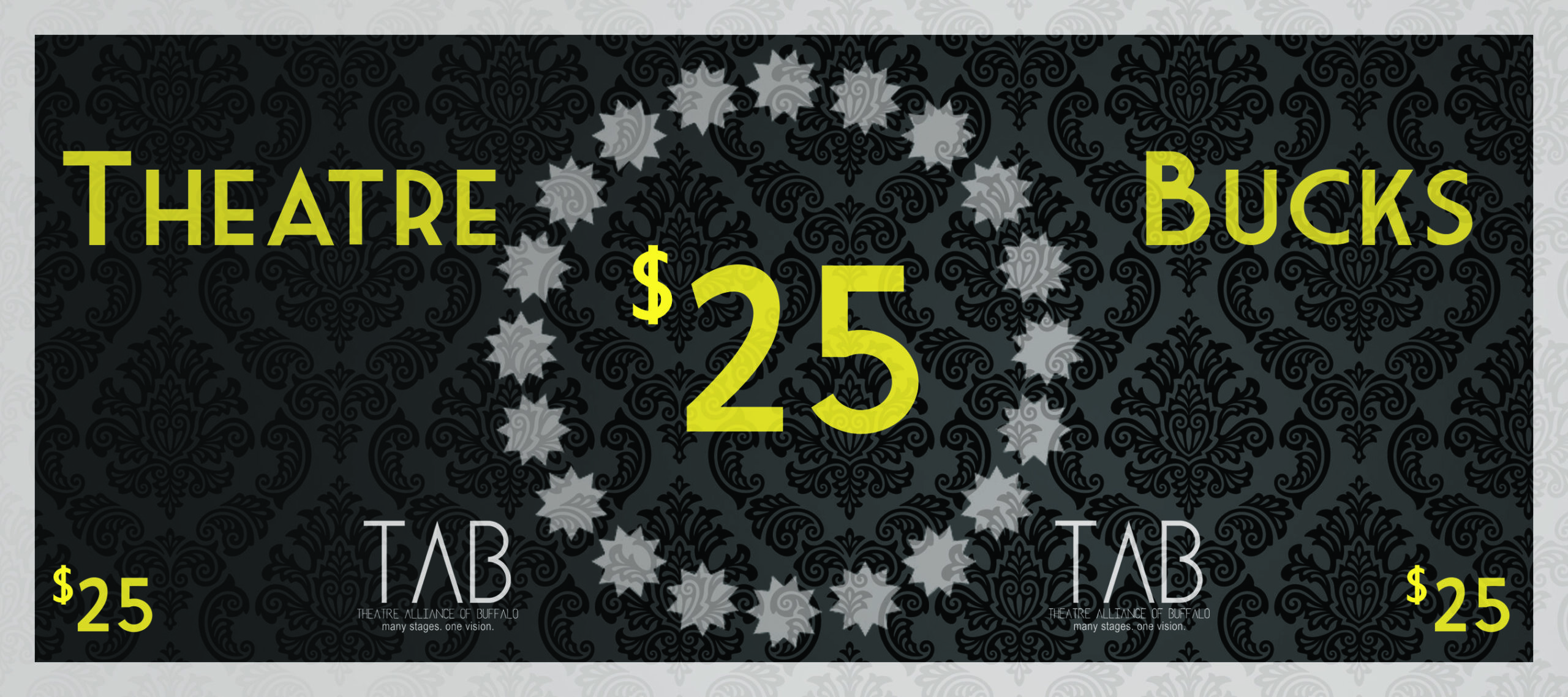 PLEASE NOTE: Use the drop-down menu below to choose the number of Theatre Bucks you wish to purchase. If the number you wish to purchase is not an option on the drop-down menu, you will have to do separate transactions to purchase that amount.
For example: if you wish to purchase 12 Theatre Bucks, you'll need to purchase "6 Theatre Bucks" TWICE. A $1 service charge is applied to each transaction.)
Please note that TAB uses the US Postal Service (USPS) to mail you your Theatre Bucks – TAB is not responsible for delays incurred by USPS for any reason, including inclement weather or increase in volume of mail due to holidays, in general. Your order will be processed within 5 business days of your order.  Please note that any orders placed after 12/11/2023 cannot be guaranteed delivery in time for Christmas.  Thank you.
Please note: Theatre Bucks are non-refundable and cannot be used for digital content.
 Are you one of those people that gets stuck trying to find a gift for friends or relatives?
Have you wanted to give the "Gift of Theatre," but weren't sure which specific theatre your friend or relative might want to attend?
The Theatre Alliance of Buffalo (TAB) has the answer:
THEATRE BUCKS
THEATRE BUCKS are available right here on the TAB website in $25 denominations. Hover on the Theatres tab to view affiliates. THEATRE BUCKS can be redeemed for performances, events, classes or merchandise. Some restrictions may apply for purchasing merchandise or concessions. Please check with individual theatres for details.
Simply present the THEATRE BUCKS when making your purchase! It's as easy as that!
PLEASE NOTE: Theatre Bucks normally have an expiration date that is 5 years from the date of purchase. However, because theatres have been closed due to the pandemic, expiration dates will be extended by the number of months between mandatory closings (March 2020) and being allowed to re-open (June 2021).
Please be aware that Theatre Bucks that expired before March 2020 are not eligible for this extension.