Leadership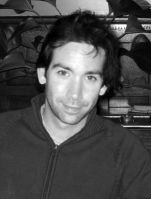 Dan Shanahan
Founder & Artistic Director
Mission Statement
Torn Space Theater is a performance-based company located in Buffalo, NY. The work seeks a balance between imagery and narrative structure, incorporating various artistic disciplines into the production's design, in order to better realize the texts within the context of contemporary culture. The work draws upon the traditions of sculpture, architecture and multi-media in order to reinterpret existing works, create original productions, and design large scale installation performances. The work reflects our interest in theater as a medium occurring in real time, incorporating the varying disciplines of the arts and media, in order to produce an experience representative in narration and largely conveyed through the senses. Our aim is to create an experience unique to the possibilities of live theater.
About Torn Space
Under the leadership of Artistic Director Dan Shanahan, Torn Space has produced over twenty works for the stage, many being either area or world premiers. Recently the company has created five original works: these works have been performed in Buffalo and New York City; being presented in such venues as the Albright-Knox Art Gallery, Sound Lab, Soho Playhouse and the companies home space, The Adam Mickiewicz Dramatic Circle. Two of these productions, Terminus and Architect were created as site specific installation performances for the architecturally significant Central Train Terminal and the grand ballroom of The Dnipro Ukrainian Home. The work was produced to showcase the history and architecture of the presenting venues, while the productions design allowed for an interactive relationship between the audience and the space. In the words of theater critic Anthony Chase; …"For the outer limits of experimental theater…Torn Space is the leader of the pack."
Information on Torn Space Theater's COVID-19 safety protocols can be found here.