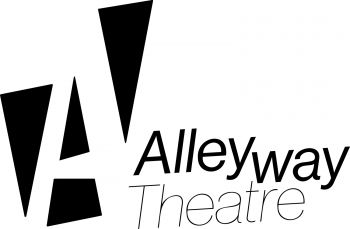 Leadership
Chris J. Handley – Executive Artistic Director  
Contact
Phone Number: 716-852-2600
Address: 1 Curtain Up Alley, Buffalo NY 14202
Mission Statement:
Alleyway Theatre is a professional theatre company and collaborative incubator for bold, visceral new theatre. Education & development programs foster the talents of emergent artists from Western New York and beyond … embracing fearlessness, theatricality, humanity, and authenticity.
About:
Alleyway is now in its 44th season as the award-winning and nationally-recognized home for new plays in Buffalo. A full season of brand new plays and musicals shines in the mainstage and cabaret theatres throughout the year. Recent highlights include KRAGTAR! THE AMERICAN MONSTER MUSICAL by Kyle Wilson and Sam French (winner of Buffalo Spree's Best Musical), THE MAGNOLIA BALLET by Terry Guest (winner of the David Goldman Fund for New American Plays Award), and THE LIFE AND SLIMES OF MARC SUMMERS by two-time Tony Award nominee Alex Brightman, starring Marc Summers.
The new AlleyWorks program focuses the company's mission onto the playwright. This series of offerings provides support and resources for local and out of town playwrights to develop their plays and musicals at varying stages. From readings and workshops to full productions, playwrights work with the Alleyway staff to bring in actors, directors, dramaturgs and designers to support ongoing visions. The 23/24 season will see readings of a new musical in development by local writers, the workshop production of a new comedy by Charmagne Chi, and a fully staged new musical by Selda Sahin and Derek Gregor – the latter two as part of the subscription series.
Alleyway hosts the annual Maxim Mazumdar New Play Award. The prize includes a cash award, in addition to a full production and royalties in an upcoming subscription season. Alleyway is one of the only, if not the only, theatre in the country which offers a full production as prize.
The robust Education program is supported by multiple grantors and brings high school students from across Erie County to special invited dress rehearsals of all of its new plays, including discussions with the artists afterward. In 2023, the company will once again partner with the national series, #ENOUGH: Plays to End Gun Violence, paying high school students to produce, direct and perform in original short plays about this important topic. Year-round classes in scene study, TV/Film, auditioning, and playwriting are available for both high schoolers and adults.
At Alleyway, theatre is for everyone. The company has increased its access throughout the community, offering multiple Pay What You Can performances throughout the year, a special Project Spirit program for free tickets to A CHRISTMAS CAROL, and other discounts for students and industry members. As the company hires staff, selects plays, and casts artists, we are committed to creating an equitable and accessible, diverse and inclusive, joyful community representing the breadth of humanity, including people of all genders, races, abilities, and ages.